Community Acupuncture is HERE! Takoma Park
March 06, 2018
Community acupuncture is here! We are excited to announce a daily schedule for pre-booked or walk-in appointments now at our Takoma Park location. 
This group setting goes back to the roots of how acupuncture has been practiced in Asia for thousands of years. Because the acupuncturist's time and space are shared it allows the cost to be lower than private acupuncture services. Our space has seven reclining chairs, warm blankets, and soft lights to help you relax and go deep into your treatment.
Community acupuncture is quite different than the experience you get during a private, full-body service. The points available are limited to the exposed parts of the body and the communal setting doesn't allow for a health history or conversation about your symptoms. What you are guaranteed to receive is a break for your sympathetic nervous system. That low (or high!) level stress that nags at you throughout the day will be turned down, and possibly off, during your treatment. Other physical symptoms may be addressed through a brief intake form but if you have a complicated health situation, we may recommend a more thorough consultation and treatment plan with full-body acupuncture.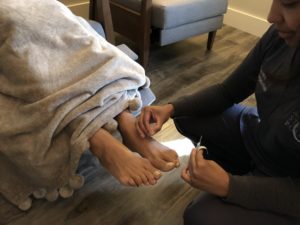 After the thin, sterile, disposable needles are placed, you are invited to relax for anywhere from 20-40 minutes. After that time, the needles will be gently removed and you can continue to rest and integrate the benefits of your session. We allow for walk-ins, but depending on how busy we are if you don't have an appointment you may need to wait for the acupuncturist on duty to be available. 
 
Community acupuncture is priced at $55 for your initial consultation and treatment. After your first session, treatments are only $35. Promise Program members get 10% off, too.  A portion of each payment will be dedicated to a scholarship fund for others who are unable to afford community acupuncture. By investing in your wellness, you will also be making holistic healthcare more readily available to others in our community.
 
Hours of Community Acupuncture:
Monday 4:15 – 7:30
Tuesday 12:00 – 7:30
Wednesday 10:00 – 3:00
Thursday 3:15 – 7:30
Saturday 10:00 – 5:00
Sunday 10:00 – 4:00
Check out this week's availability here, book ahead if you can, and see you soon!