Life 360: Self-care made doable, because you should not come last
September 18, 2018
Check out this great opportunity for a comprehensive self-care program at an amazing price!
Hard working women this program is for you!  Has taking care of everything and everyone overrun taking care of YOU? Is your energy sapped, your stress high, are you numbing out with food and alcohol and maybe even feeling physically unwell? If you are nodding your head and inwardly shouting hell yes, then join us beginning this October for 11 sessions of self-care like you've never experienced before.
Liz Rees and Julie Hassett, coaches with Rees Wellness, are offering 10 women the opportunity to participate in a community based, radical self-care program designed for the over-functioning woman.  Called Life 360, this program will help you establish practical, proven, and doable self-care practices, no matter how busy your life is.
It's done as a group because women thrive on connection.
We need each other for support when things are hard, for big laughs at all the craziness, and for encouragement when we want to give up. And usually the best support comes from those going through the experience with you.  Everyone's experience is unique and you will be met where you are.  But, we do it together. No judgment, no prizes, no competition. Just support.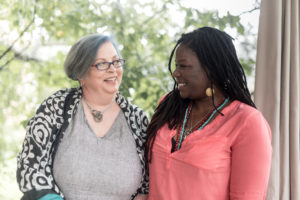 We understand that busy women like you do not have the time to research and make decisions about the overwhelming amount of information on nutrition, sleep, exercise, neuroscience, biology, psychology, spirituality and transformation. Let alone figure out what works best and put it into practice!  Liz and Julie have done the research for you over many years of education, experimentation and coaching. What emerged is a comprehensive, easy-to-follow transformational program that makes self-care doable, lasting and integrated into your life.
Over the course of three months, a cohort of 10 women will participate in 11 hands-on sessions that serve as ground for experimenting with nine integrated "keystone habits" that comprise a system of self-care. The content, exercises and practices are all designed with the doer in mind.  Sessions are short, require up to two hours of class time per week and weekly exercises you do on your own. Classes are delivered in person and virtually to make it convenient but also keep the sense of community.  The whole program is "bookended" by one-day intensives at the beginning and end of the curriculum.  Classes are held on Sundays.  We dig into what's holding you back and give you a time tested framework for living a resilient life. We expect big and small shifts, new insights and hopefully renewed commitment to making yourself a priority as a result of this program.  Most of all, we expect you to find community so that you are not going it alone.
We need your full participation and feedback to make this program successful. This version is a pilot. We are testing the materials to see what works and what can be improved upon so that as many people as possible incorporate self-care into their lives.  Dates are as follows:
October
10/14   11:00am-4:00pm     Intro Workshop (Live in Silver Spring)
10/21   5:30pm-7:30pm       Live @The Still Point Spa
10/28   5:30pm-7:30pm       Live @The Still Point Spa
November
11/4   5:30pm-7:00pm            virtual class
11/11 5:30pm-7:00pm            virtual class
11/18 5:30pm-7:30pm            Live @The Still Point Spa
December
12/2   5:30pm-7:00pm            virtual class
12/9   5:30pm-7:30pm            Live @The Still Point Spa
12/16 5:30pm-7:00pm            virtual class
January
1/6  11:00am-4:00pm           Final Workshop Intensive
1/13  (Time TBD)        Celebration Event– Making Commitments, program evaluation and  Celebration dinner
Cost
$197.00 (yep – crazy right?)  As part of the program we will ask for an in-depth evaluation of the content and presentation of materials.
This program is by application only.  Please fill out the brief questionnaire and we will contact selected participants by September 29th
Please apply here. Deadline is September 28th.