New Service! Head to Toe Stretch
January 12, 2018
Hunched over our desk and squinting at our smart phones…it's easy to go through a day and only our fingers get a work out. That plus high intensity training workouts like spinning and Cross Fit, most of us would fail the sit-and-reach in the Presidental Fitness Test.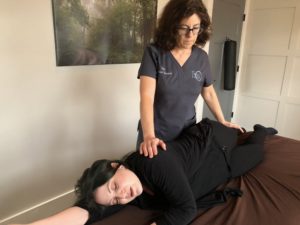 Now offered in Takoma Park, Head to Toe Stretch is a series of guided stretches that target specific muscle groups to help promote flexibility, range of motion, and circulation. Additional benefits include relaxation and decreased muscle tightness. Head to Toe stretch sessions are done in comfortable work-out clothes on a massage table.
The difference between this and a practice like yoga or actively stretching on your own, is that assisted stretching is static stretching, as opposed to dynamic.  Instead of tensing your muscles in a practice like yoga, you are basically limp and your practitioner has your weight in their hands. This allows you to safely move beyond your natural resistance point.

The sequence of stretches can be done as a stand-alone session or a 30 minute session can also be paired with a 60 or 90 minute massage for greater relaxation and tension relief.
Book now through the end of February and get $20 off of a 30 minute session with Deb. Normally $65, only $45. Takoma Park only.