The Great Pause
July 05, 2020
By Melissa Lee, Acupuncturist
I have heard this time referred to as "The Great Pause" and it has been useful for me to think of it that way. It is a pause from so many things; being able to go out in the world, go to work, see each other, touch each other, a pause from life as we know it. That is no small thing. But a pause creates space, and in that space is time to reset and renew. Being removed from the outside world has allowed me to reconnect with my inside world; my mind, spirit, body and the world I have created in my home with my family. So I am trying to take this moment in time to figure out what is most precious to me and let go of what does not serve me.
So far, creating rituals in the mornings and evenings has been useful towards this end. In the mornings I do some simple and quick energy work and set an intention for the day. In the evenings I do a tension release technique before going to bed. As an acupuncturist, I am aware of how much of a toll stress takes on the body and all its systems so I do my best to release it daily, before it builds up too much. And when it does build up too much, I find solace in being outside, going for walks, remembering my connection to Earth at a time that feels strange and disconnected. I even hug trees, as has been recommended. I look for joy in being present and enjoying activities that I don't usually take the time for, like trying some grain and sugar-free baking (which often produces results that not even my kids will touch), helping my son organize an intimidating pile of Legos, and writing letters to friends with whom I have lost touch. I keep working to remember to feel gratitude for this life in all its many facets.
But mundane life also goes on, so while I work on contemplating the deeper meaning of life, I am discovering that four people, eating every meal at home, create a mountain of dishes that is almost impossible to get out from underneath. I have a ridiculous struggle daily with the computer while I try to log my son onto his online school video chat, and some days it is inexplicably noon before I am even able to get dressed. But in this Pause, I am also working on being gentle with myself, letting myself be okay with the frustration, the despair and fear, the overwhelming sense that something terrible is happening in the world and the inequalities that exist for earth's citizens are laid even more bare than before.
This is a dark time, and darkness presents new opportunities for learning and growth. A wise teacher once told me that great chaos proceeds great change. So as much sadness as I feel, I feel an equal amount of excitement about what I am to become, what I am becoming. I am mourning an old way of life and celebrating a new one that is swiftly evolving. The current uncertainty makes it that much more pressing to stay in the present, which is something I always wanted to be better at anyway. I am trying to accept this Great Pause as a gift, and use it as time to expand my love for myself, for my family and friends and for all of humanity.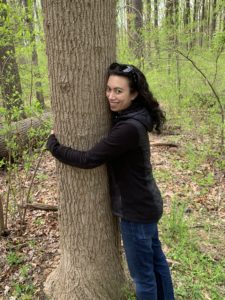 Melissa Lee, DIPL. OM, NCCAOM