Writing for Change Retreat in Costa Rica
April 18, 2018
The Still Point Spa is excited to share an amazing (international) opportunity with you!
Have you been waiting to write your book? 
Do you feel called to see more of the world?
If the answer is "yes!" to both of these questions, then consider joining author, writing coach, and founder of VoicePenPurpose Publishing, Amy R Brooks, in the lush mountains of Costa Rica this summer for a writing retreat you will never forget!

During your time away, you will be surrounded by the rainforest, meditate by the expansive Lake Arenal, and watch the sun rise behind ancient volcanoes. You will also gather with other women who are ready to share their stories.
At The Still Point, we believe in holistic wellness. We understand the power of nature and the beauty of trying new modalities. This Writing for Change retreat is a unique opportunity to reconnect with yourself and recommit to your body's harmony. We hope that both experienced and new writers will boldly adventure in Costa Rica for a 7-day, 6-night retreat focused on reconnecting with your inner message.
Here are some reflections from past participants:
"I attended Amy's Writing for Change retreat in Costa Rica in July 2017. This was less than two months after I lost my fiancé in a tragic work accident. The retreat was one of the best decisions I have ever made. The days started with silent mornings filled with meditation, journaling, and yoga followed by intense group work. It was amazing and just what I needed. Amy helped me push through the grief fog I was experiencing and allow myself to feel and channel my thoughts in a safe, productive and supportive environment. The women attending were wonderful and, in them, I made new friends that I would never have met without Amy. Working with this group of awesome women set me on the right path for my book, which I am very excited about. Some of the most amazing moments were during our guided meditations led by Amy that followed with automatic writing. Huge breakthroughs! " Amy is a truly gifted person. She alone was worth the trip. Add in some super fun excursions, BEAUTIFUL COSTA RICA, and her retreats are really a no-brainer. A true mind, body and soul healing experience. Do yourself a favor and GO!"
-Elyse R.
I was grateful I was able to take part in Amy's writing retreat. I knew I love to write, but I actually didn't have plans on writing a book. Little did I know, that suddenly during one of our morning workshops I realized that I too am to write a book. Due to Amy's encouragement and knowledge about the whole process, I felt totally inspired and supported to commit to this creative endeavor. Thank you, Amy, you are pure magic!
-Johanna H.
Amy and her family recently lived in Costa Rica and she's been perfecting her Costa Rican retreat over the last year. We are confident that this is going to be her most luxurious event yet!
Here are the details:
Magical Costa Rica
July 23-29, 2018
2 nights at the beach
4 nights in the mountains
5 days of the Writing for Change Retreat for healing, direction, and connection. 
Author, Book Coach, and Publisher, Amy R Brooks will facilitate group and individual sessions with time for daily reflection and revisions.
This will be an ideal environment to birth creative content that is aligned with your mission, your authentic voice, and your higher purpose.
You'll stay in a beachfront hotel upon landing in Costa Rica. The next day you'll be driven to the breathtaking Mystica Retreat Center in the mountains. There you will be surrounded by views of the rainforest, Lake Arenal and Volcano Arenal. You will be able to completely decompress because this all-inclusive experience includes locally-sourced meals, a waterfall excursion, dining out at a local restaurant, an on-site infrared sauna, a meditation labyrinth based on divine symmetry, and an all-natural dipping pool.
No decisions will need to be made!
Everything is taken care of!
During your time away you will also be treated to yoga each morning in a sanctuary overlooking a secluded mountain river before you begin daily writing workshops. Additional treats include a 60-minute massage, surprise gifts, and a powerful full moon ceremony on July 27th.
**********************************************
**Bonus: If you decide to pay-in-full for this Costa Rican experience by May 20th, you get a $300 discount on registration!!!
Click HERE for more information or email Amy directly at Amy@VoicePenPurpose.com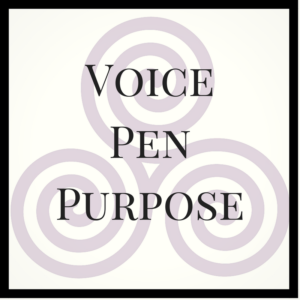 Your VOICE.
Your PEN.
Your PURPOSE.