You're Good to Glow this Fall with our Level 3 Facial
September 25, 2019
By Tammi Cox, Esthetician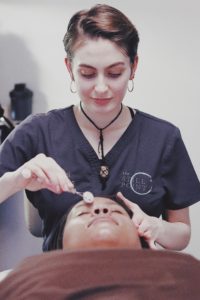 As much as we are good about sunscreen, post summer skin shows the effects of long summer days. With the appearance of an uneven complexion and UV damage that makes skin appear dull and uneven, there are steps you can take to enjoy refreshed glowing skin after mother nature naturally turns us away from the sun's blazing rays.  Shorter days make the perfect time to stop by The Still Point for our customized Level 3 facial!
You will experience a results-driven service fueled by a botanical AHA/BHA chemical peel, LED technology, and the knowledge of an experienced Esthetician. The results of our customized Level 3 facial vary by person, since everyone's skin is different. But we can guarantee you will leave with all of your old, dead skin cells shed – so you can go home relaxed and kick back while your skin begins the cellular turnover process. We give you a post-peel kit from our chemical-free skincare line, TOMA, to use for a few days after the service while your skin is being renewed. Deep nourishment for freshly exposed cells is a key part of the process.
Because the sun isn't as strong in the fall, you won't have to worry as much about skin sensitivities after your service making it a perfect seasonal treatment. Although all chemical peels contain the base acids such as lactic, glycolic or salicylic – you won't leave red, flaky or super sensitized for days to follow. Definitely be sure to follow up with SPF while outside regardless though, because although we may not be able to see the sun on these gloomy fall days – the sun's UV rays can still spot us!
During your service you will be guided through the process by your experience and knowledgeable Esthetician. We understand the terms "chemical" and "peel" can sound scary to some, especially our new clients – but trust us as we are confident you will be in much capable hands. Feel free to ask any questions, or simply lay back and relax as we clear away any old, damaged summer skin – so that new, healthy vibrant skin can shine through for the change of season!
If you're prone to having super sensitive skin, don't worry. There's an option for you too within our Level 3 facial. We have botanical enzymes on hand which are a notch down in potency compared to our AHA/BHA peels, but still super effective at removing dead skin and leaving your complexion brighter. I've used enzymes on clients with eczema, rosacea and even inflamed cystic acne – all with great results!
Our LED microcurrent tool is what really bumps up our Level 3 facial and really boosts results.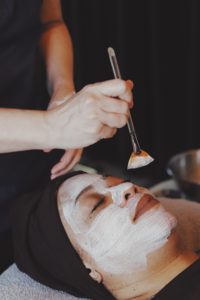 This multi-function tool targets everything from reducing acne/discoloration and  hyper-pigmentation, to combating fine lines and wrinkles….it even has a setting that will 'push' all of the brightening and hydrating serums we apply deeper into the layers of your skin. Instead of just focusing on the top layer of skin, this tool will help penetrate those effective serums as well as a botanical cucumber mask into the second and third layers of skin – making this a deeply nourishing and all-around efficient treatment.
Our skin naturally sheds every 27 – 40 days, depending on age. If we don't help to encourage this cellular turnover through at-home maintenance and spa level exfoliation, dead skin will begin to pile up – layer after layer. This can cause a dull complexion, rough texture, dehydrated feel and patchiness with hyper-pigmentation.
So, as far as the frequency of peels…
You have the option to come in monthly and get your Level 3 facial, which includes extractions and LED tool, or you could get a peel in a stand-alone "Resurfacing Treatment", as often as every 2-4 weeks.
Talk with your Esthetician after your service and we will lay out a skincare regimen for to enhance your results between your sessions. Upkeep and continuation of your at home routine and spa services will be dependent upon you and the desired goals you are aiming to achieve.
Through years of clientele and personally getting chemical peels myself – the monthly Level 3 service with weekly at-home exfoliation seems to be the best combination! The monthly peel will restart that cellular shedding cycle and the at home exfoliation will discourage any dead skin, oil or dirt to build up until your next spa appointment.